The three great L's of Eisleben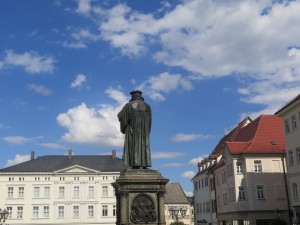 The Mansfelder Land is well known for copper mining, the hilly landscape and the reformer Martin Luther. Actually, the city Eisleben has the reformer in its official titel "Lutherstadt Eisleben". A well known adage in Eisleben are the "three great L's of Eisleben". Martin Luther is one of them. The second L of Eisleben is almost forgotten. Until 1991 there was a lenin monument on a place called "Plan" in Eisleben. After the change in Eastern Germany, the momument was removed an transported to the natinoal historic museum in Berlin. This lenin momument has a special history. It was not just the first lenin monument in germany, there also excists a myth about its rescue and installation. This myth is still alive in the memories of the older people of Eisleben. Not just a memory, but still existing is the other and third L of Eisleben. The familiy of the well known horse butcher Lüttich.
Radio Corax went on a field trip to Eisleben to ask about the "three great L's of Eisleben" and to research its background strories.